By Koleen Singerline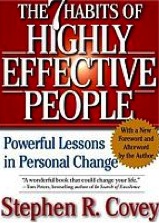 The 7 Habits of Highly Successful People is a book that changed my thinking in many ways, so I was very saddened to hear that Stephen Covey, author of the book, had passed. "Stephen R. Covey's book has been a top-seller for the simple reason that it ignores trends and pop psychology for proven principles of fairness, integrity, honesty, and human dignity."
The book, which was published in 1989, sold more than 25 million copies in 38 languages worldwide. The seven habits are as follows:
1. Be Proactive
2. Begin with the End in Mind
3. Put First Things First
4. Think Win-Win
5. Seek First to Understand, Then to be Understood
6. Synergize
7. Sharpen the Saw
I find myself quoting these habits and using them often in making business decisions. One of my favorites, begin with the end in mind , is important when determining when and who to hire. We want to hire employees that are the right fit for our business, and we don't want to hire employees we don't really need. To accomplish this, we need to begin with the end in mind.
Sounds pretty simple - figure out where we want to end up before we even get started. So what is the end we are looking for? We want fully engaged and skilled employees that are a perfect fit for our company culture so we don't have to terminate any of them. To get there, we need to have a plan for two things: making good hires and figuring out when someone isn't. We hope we will be able to do both, but as one of my friends always reminds me: "Hope is not a strategy. It is, however, a catalyst for change."
The second habit that I believe is so important to business is #6, Synergize. "To put it simply, synergy means "two heads are better than one." Synergize is the habit of creative cooperation. It is teamwork, open-mindedness, and the adventure of finding new solutions to old problems. But it doesn't just happen on its own. It's a process, and through that process, people bring all their personal experience and expertise to the table. Together, they can produce far better results that they could individually.
Once you've hired the right people, get out of the way and let them do their thing. Many companies force employees to follow a list of company rules even in situations where common sense dictates a different course of action .
Employee empowerment is a practice that gives employees the flexibility to make decisions. Employee empowerment can be a key component in helping your company meet its growth goals. Failing to empower employees to use their knowledge of your company's product or services to meet the client's need, may be holding your company back from growth and innovation.
If you haven't read the book, I highly recommend it. Please add your comments about this book or suggest some other business books that changed your thinking. For more Hiring advice, download The Complete Hiring Guide.